CES2020: REALMAX Releases 5G-Supported AR Cloud Platform – A Freely Creative AR World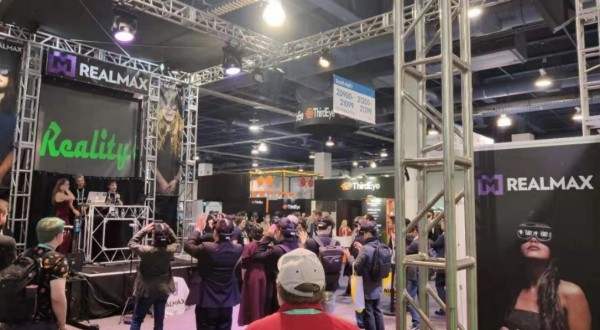 On January 7th, 2020, the annual International Consumer Electronics Show (CES) was held in Las Vegas, United States. 5,190 manufacturers had registered for CES 2020, with more than 300 conference speeches conducted to nearly 180,000 people attendees.
At the exhibition, the AR company REALMAX, headquartered in Shanghai and strategically invested by Chinese research institutions, not only exhibited a variety of industrial applications of its REALMAX 100 AR headset, with its massive 100.8-degree field of view but also released cloud platform software "Stage" and "Venue". The cloud platform supports 5G cloud rendering and multiplayer experiences, allowing users to freely create their AR world.
Releasing 5G-Supported AR Cloud Platform – A Freely Creative AR World
In 2018, REALMAX officially released the REALMAX 100 AR headset with a massive 100.8-degree field of view. It supports 6DOF tracking and spatial marker positioning, optimizes mainstream recognition modules, and implements gesture tracking.
At CES 2020, REALMAX released the first AR cloud platform that supports 5G, which includes two versions for both enthusiasts and developers. It is compatible with various AR intelligent hardware, such as the REALMAX 100 and smartphones, to implement cloud distribution and rendering, enabling everyone to create their own "AR world".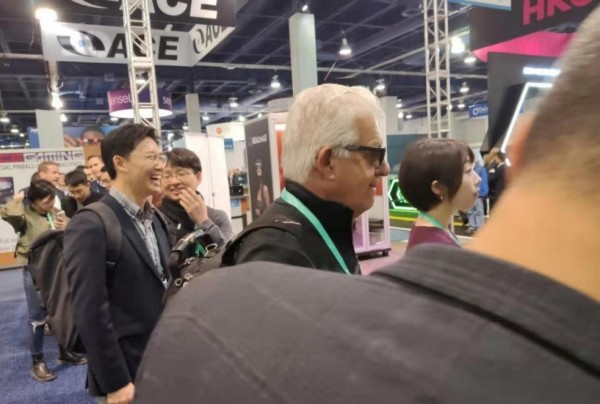 The "Stage" version of the cloud platform is aimed at enthusiasts. Users can use simple drags to move 3D objects, watch the stage they build on any device, and arrange virtual guests to perform on the stage. The performer can be a foreign language teacher or a popular idol who can sing and dance well. They can also interact with the audience offstage in real-time.
The "Venue" version, for developers, provides a wider creating space. Users can connect AR with the Internet of Things (IoT) to get a multi-sensory and comprehensive 3D experience. Furthermore, "Venue" supports multi-player collaboration and interaction. Users can invite their friends to join the immersive world they build.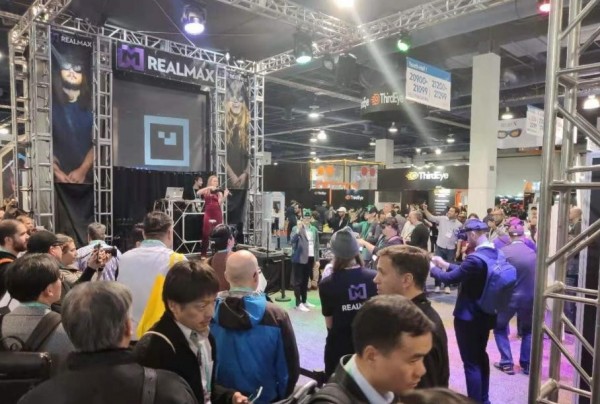 "Stage" and "Venue" require zero technical foundation for users. Any beginner can logically associate the rich models in the scene library through a very friendly user interface, and simply and efficiently create their content.
Consecutively exhibiting at CES for 3 years, REALMAX brings AR integration into life
To interact with other leading global AR companies,REALMAX has actively attended the CES for 3 consecutive years. In 2017, REALMAX won a 200 million RMB round A strategic investment from a central enterprise, which became one of the few huge financing cases in the domestic AR industry. As a project backed by top Chinese research institutions, REALMAX has a natural advantage compared to other AR projects.
Yu Hai, the CEO of REALMAX, believes that both Microsoft and Facebook are laying out VR and AR around their main business. For example, Facebook's purpose is to grab the next-generation computing platform from social applications to terminals, and even chips, while Microsoft focuses on cloud services, new smart terminals, and operating systems.
"A reason why the AR industry has not established large-scale sales is that there's some difficulty in creating real AR scenes. Consumers believe there is a high technical requirement to create these AR environments which account for this."
Therefore, REALMAX believes that during the 5G era, with cloud interactive control technology optimization, ordinary people should have the right to define their own needs, design their interactive logic to create real value for AR. Developers should be allowed to focus on applying business logic and efficiently develop product functional platforms. Both are very important.
In Yu Hai's plan, the development of hardware and software must complement each other. The large-scale mass production and shipment of REALMAX hardware enables many high-quality industry applications to be implemented in bulk in operators. REALMAX signed a strategic software cooperation agreement with one of the largest media buyers in the United States on the first day of CES 2020.
"Only with AR hardware that is produced at scale and bought to build and support the industry's ecosystem, and an AR software that ordinary people can use, create and bring AR into life, which will help the industry evolve commercially," Yu Hai said.
In 2020, REALMAX will release the "mini AR world" plan in cooperation with major agents in the United States, Europe, Japan, South Korea, and Taiwan, making the development of cloud AR scenarios as easy as using 5G phones.
More info:
Website: https://www.realmaxinc.com/
Email: [email protected]
Facebook: https://www.facebook.com/pg/RealMaxARGlasses
Youtube: https://www.youtube.com/channel/UCaiNumveTXnPtLhQyz2pOhg
Media Contact
Company Name: RealMax
Contact Person: Media Manager
Email: Send Email
Phone: +86 21-54291156
Country: China
Website: https://www.realmaxinc.com/