Deltec Bank, Bahamas – Computer Vision Technology Can Transform Financial Services
Digital banking is a sector that was first out the gate in the race to integrate computer vision technology.
Computer Vision is a nascent technology that marries AI and big data with high definition video to proactively analyze the visual world in extreme detail. Basic facial recognition software exhibits some of the earliest implementations of computer vision technology but its strengths go far beyond that.
According to Deltec Bank, Bahamas – "The industry around computer vision technology is growing rapidly as many sectors begin to realize its full potential. Financial services, in particular, have noted the huge cost-saving benefits that the technology promises." With all modern smartphones equipped with HD cameras, a large section of the necessary infrastructure is already in place to support the technology.
With a market that is predicted to grow to $18.4 billion by 2025, computer vision attracts more than just a passing interest from the financial sector. Coupled with developments in machine learning and AI, it could rapidly accelerate the automation processes that are already being rolled out.
Taking financial services to the next level
Digital banking is a sector that was first out the gate in the race to integrate computer vision technology. The sector has been quick to solve online problems where traditional banks have dragged their feet.
Now, customers can quickly and easily sign-up to a digital bank on their mobile phones without ever needing to visit a branch. The convenience has proved popular and resulted in a global shift towards online-only banking. From Transferwise and Moneylion to Revolut and N26, venture capitalists the world over are plowing millions into this emerging sector.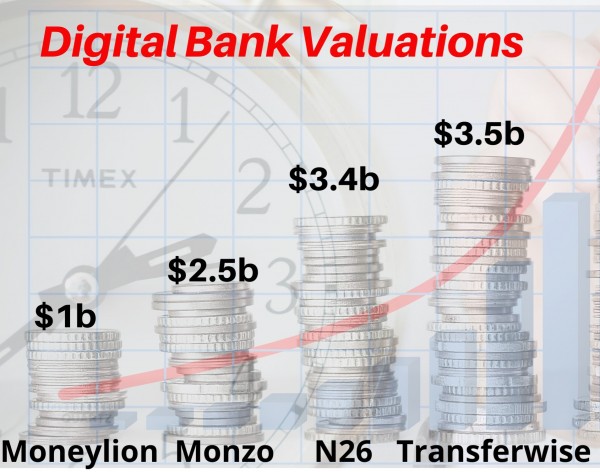 Know-Your-Customer (KYC)
Know Your Customer processes have traditionally put a heavy strain on small businesses due to the stringent identity and background checks that they require. Before the introduction of computer vision technology, identity could only be verified in person at a physical bank branch and often take days to process.
The removal of this necessity and similar verification requirements have all but negated the need for expensive staffing and physical branch requirements. Just this small change alone has been one of the most significant driving factors in the growth and evolution of digital banking.
Biometric identification
Cardless payment services are becoming more and more common, with several ATMs introducing iris or facial scanning technology to verify identity. Smartphones now use similar technology to verify contactless NFC payments via services like ApplePay or GooglePay. Eventually, these identification methods could replace card and account numbers altogether, massively reducing instances of fraud and theft.
UK-based digital bank Starling has introduced a unique biometric identification system to help customers that get locked out of their accounts. The customer records a short video of themselves reading out a secret phrase which is then stored securely and used to remotely verify identity in the event of a lockout. The technology required to defraud a system such as this would be far beyond the means of most cybercriminals.
Challenges
Modern developments like computer vision technology tend to challenge the status quo, and as such are usually met with resistance and skepticism. The potential for fraud remains ever-present and while most systems are usually safer than their predecessors, gaining trust is never an easy task.
There are a number of concerns regarding the mass storage of facial recognition data and how it is used. Data leaks are not uncommon, nor is the misuse of data by government agencies. If the financial services industry hopes to continue the propagation of computer vision technology it must ensure that data security is at the forefront of any implementation.
One small error or data leak could have far-reaching consequences and derail years of trust. However, if well implemented and securely managed, computer vision technology could revolutionize the financial services industry.
Disclaimer: The author of this text, Robin Trehan, has an Undergraduate degree in economics, Masters in international business and finance and MBA in electronic business. Trehan is Senior VP at Deltec International www.deltecbank.com. The views, thoughts, and opinions expressed in this text are solely the views of the author, and not necessarily reflecting the views of Deltec International Group, its subsidiaries and/or employees.
About Deltec Bank
Headquartered in The Bahamas, Deltec is an independent financial services group that delivers bespoke solutions to meet clients' unique needs. The Deltec group of companies includes Deltec Bank & Trust Limited, Deltec Fund Services Limited, and Deltec Investment Advisers Limited, Deltec Securities Ltd. and Long Cay Captive Management.
Media Contact
Company Name: Deltec International Group
Contact Person: Media Manager
Email: Send Email
Phone: 242 302 4100
Country: Bahamas
Website: https://www.deltecbank.com/