A & D Pressure Cleaning Offers New, Safer and More Effective Low-Pressure Soft Wash Roof Cleaning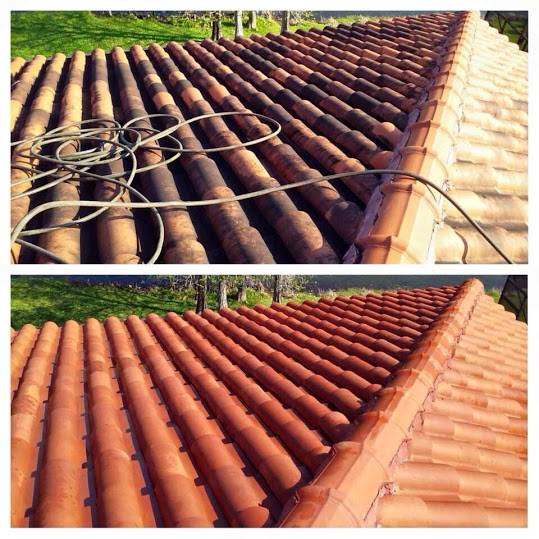 We've seen other guys making the mistake of using hard pressure wash and ending up damaging a part of the property. To avoid the horrors like putting cracks in the roof, we've introduced low-pressure soft wash roof cleaning – the results are promising!
– Chris Chmura (CEO)
To avoid the dangers that come with hard wash when cleaning sensitive areas like rooftops, A & D is leveraging low-pressure soft wash, and it's showing better immediate and long term results.
A dirty and dark roof can be an eyesore for every homeowner. However, it can easily be cleaned and turned into a new-looking home with low-pressure soft wash. It's the safest method to clean a roof and ensure it's free from dirt, dust, mold, and harmful bacteria. Not getting regular soft wash will result in the roof getting weaker over time and lose its ability to reflect harsh UV rays. This will increase the home's temperatures, causing the HVAC to work harder and consume more energy. It's a domino effect that'll affect a home in many different ways. However, with A & D's low-pressure soft wash roof cleaning service, every homeowner can keep their roof in top condition.
A & D Pressure Cleaning is South Florida's top choice for power washing, and they've been offering pressure cleaning services for decades now. The company has employed top-tier cleaners and washers that are well-versed in both residential and commercial services. Their recent addition to the service lineup – soft wash roof cleaning is great for everyone looking to safeguard their roofs from the dangers that come with not cleaning them for weeks. Plus, it's safer and more efficient than a high-pressure wash, which does a great job in getting rid of the mold and accumulated dirt but can also damage the roof with its high-powered water stream.
Since A & D has just introduced this service, they're offering premium quality low-pressure soft wash roof cleaning at introductory prices – get the safest and most effective service at an unparalleled cost. They also offer pressure washing for other parts of the building, including driveway, patio, sidings, etc. Whether a home needs some pressure washing love to get restored to its previous beautiful self or a business requires it to attract potential buyers inside, A & D can work wonders for both.
To know more about A&D Pressure Cleaning and Soft Wash Specialist, or to procure any pressure cleaning near me, visit their website www.adpressurecleaning.com or contact them via 954-980-0454.
About A & D Pressure Cleaning and Soft Wash:
A & D Pressure Cleaning Services is South Florida's preferred source for top-quality power washing, pressure washing, and exterior property restoration services. They use only the highest quality products and modern professional equipment to perform house washing, gutter scrubbing, roof cleaning, concrete and driveway cleaning, deck cleaning, commercial services, and more! Their years of experience and expertise make them perfect for both residential and commercial cleaning.
Media Contact
Company Name: A & D Pressure Cleaning and Soft Wash Specialist
Contact Person: Chris Chmura
Email: Send Email
Phone: 954-980-0454
Address:8841 Northwest 15th Street
City: Pembroke Pines
State: Florida
Country: United States
Website: adpressurecleaning.com