Pierce Alexander Lilholt Book of Questions "Are You Awake?" Gains Ground as a Think Piece for Curious Minds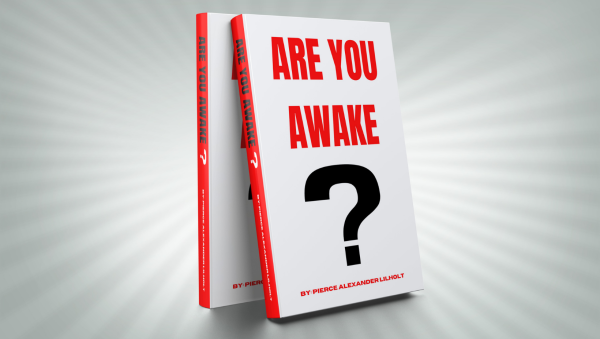 Good news for all who fancy some mental exercise, Pierce Alexander Lilholt's book, "Are You Awake?" proffers 326 pages of non-stop questions, from the front cover, through to the back cover. The book, originally released on May 1, 2022, has been lauded for the unpredictability of its content. So far, readers have reported that they are having lots of fun reading the book despite its "very strange nature."
Pierce Alexander Lilholt's book, "Are You Awake?" is available for purchase on Bookbaby for $29.99.
Albeit its "very strange nature," industry experts expect the book to become popular over the coming months due to its unique nature. They expect readers to have fun, sieving through the questions-only book as it pulls them out of their own reality into a different world.
Although it is riddled with questions without answers, it is said that the best part about Pierce Alexander Lilholt's, "Are You Awake?" is the liberty that readers have to provide their own answers.
When quizzed about what readers should expect from reading his book, Pierce Alexander Lilholt said, "I don't know if anybody's brain has ever exploded from reading before," After reading my book, I'm still wondering if anyone's head will explode. "
"Are you awake?" falls under the genre of philosophy and the subgenre of metaphysics, and the author suggests that it is best suited for open-minded and inquisitive readers. So far, many agree that it is a one-of-a-kind book for unique readers, philosophers, profound thinkers, odd book readers, and people who are eager to experience a fresh literary style.
Here's a snippet from the book's overview to give readers an idea of what to expect. "Is this just a book of questions? Have you ever read a book that made you question everything? Have you ever read a book that made you think about things you never thought about before? Has a book ever kept you awake at night? Have you ever read a book that woke you from a deep sleep you didn't even know you were in? Does this book contain more probing questions than any other book ever written? Will your willingness to open your mind make this book what it is? Will you let this book challenge and provoke you?"
For more information on how to obtain the book, go to https://store.bookbaby.com/book/are-you-awake.
Media Contact
Company Name: Universal Language Productions LLC
Contact Person: Pierce Alexander Lilholt
Email: Send Email
Address:212 Thomas Ave,
City: Riverton
State: NJ 08077
Country: United States
Website: https://www.universallanguageproductions.com/