TS4U Starts AWS CloudOps Engineering Bootcamp with No Job No Pay promise for Students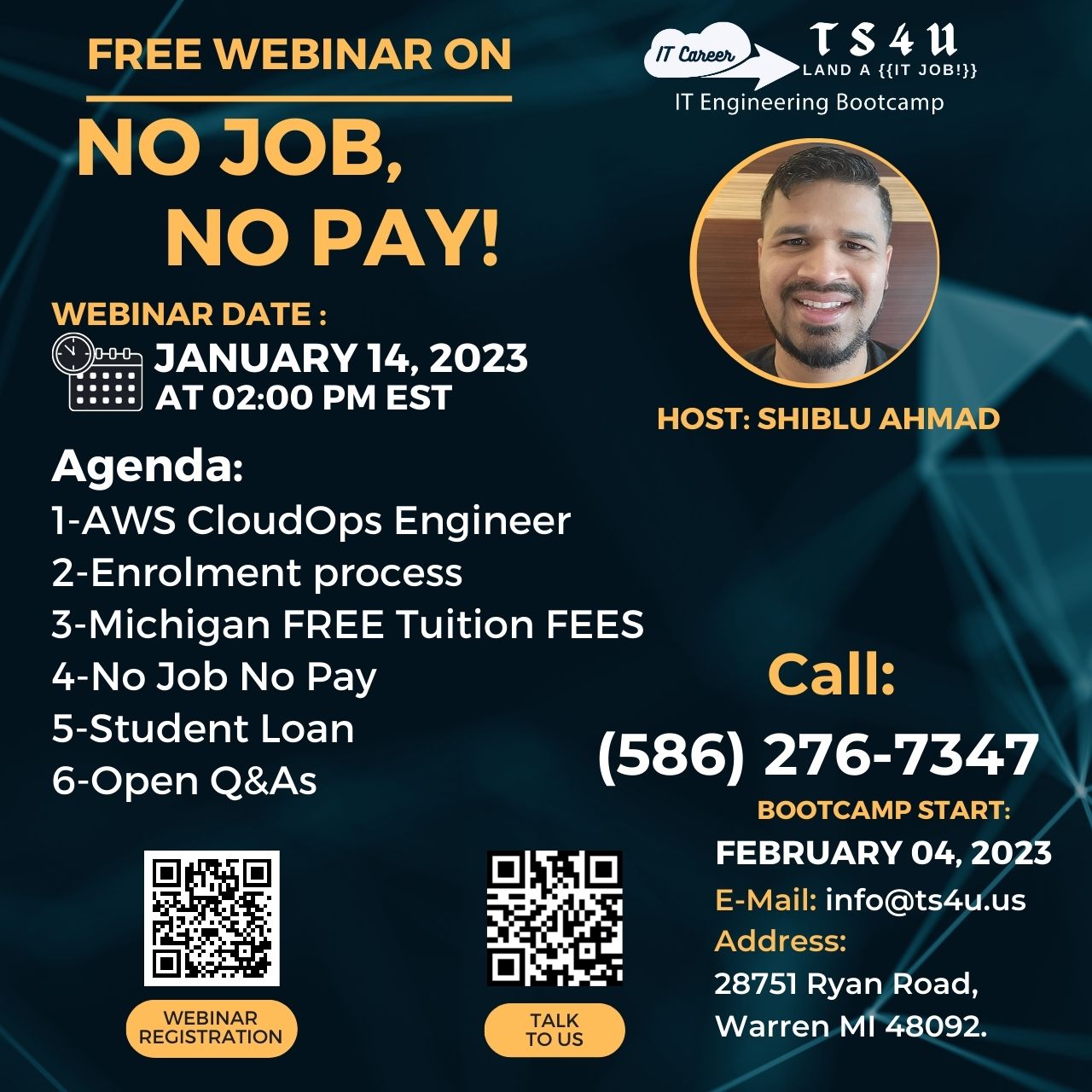 Becoming an AWS CloudOps engineer is the most high-demandable position, with millions of job openings and excellent careers for you to make up to $200,000 yearly. Join us for our free webinar this Saturday, January 14th, at 2 pm EST!
TS4U invites "all graduates, non-graduates, and/or cloud-centric immigrants with great English communication with a foreign degree, currently doing IT tech support and/or other IT jobs" to join our Saturday, Jan 14, 2023, Webinar. We will cover the entire Bootcamp, including job success, the Bootcamp roadmap, how to join without paying, getting qualified for Michigan Tuition Free State Aid, and Q&As.
Apply Today and change your career without paying through Stride-Funding
TS4U's AWS CloudOps Engineer Program is the most unique and realistic BootCamp provided since we do everything from corporate work-centric and project-based transformation so that our students can connect all dots and transform into AWS CloudOps Engineers.
In the world of IT and post-pandemic, almost everything is on the cloud nowadays. This is the best time to switch your career; over three million CloudOps, DevOps, and Cloud Engineer jobs are in the USA market.
Who can join?
If you are stuck with your odd job but passionate about IT and also serious about growing your career in AWS Cloud Platform and becoming a pure DevOps Engineer, this webinar and BootCamp is for you.
Who hires the AWS CLoudOps Engineer?
Every major government, private, health, finance, social, bank, and insurance company hires DevOps and CloudOps engineers. Millions of system engineers are transformed into DevOps and CloudOps Engineers to fulfill their current needs.
What is the career path to becoming an AWS DevOps and CloudOps Engineer?
The career path is "highly secure while working remotely" you will become a Sr. DevOps Engineer, climb the ladder to become a Solutions Architect, and easily become a Kubernetes admin and many more opportunities.
What is the salary to become an AWS CloudOps or DevOps Engineer?
The basic salary starts at around $100k yearly, but TS4U's students who have completed the program have jobs over $200k yearly. The salary, benefits, 401k, 3 to 5 weeks vacation time, working remotely, and excellent bonuses are on the table and available for you to grab once you transform your career into a DevOps Engineer position.
2- Students pay nothing until they start making money
3- Students stop paying or pause their payment if their employer ends their contract
4- Students can choose between a 36 up to 72-month paying period for installments
5- Students can focus on studying while enjoying building their careers and focusing on their career development
Learn more about the other Bootcamp that we provide the NoJobNoPay benefits to our students where we focus on their IT career development also corporate-centric skill development through our Bootcamp that others cannot offer.
What do we provide on our AWS CloudOps Engineer Bootcamp?
We do not simply teach our students tools, but we teach and build their skills to become experts in using tools, processes, and procedures, working on a scrum environment, developing problem-solving from existing infrastructure, designing the entire infra into the cloud; we cover most high-demandable tools, and AWS is one of the core platform our program. We start with Linux and do the following for the AWS CloudOps Bootcamp program.
1- Linux basic to advanced
2- App and web server concept to hands-on implementation
3- 3 tier architecture, concept, and hands-on implementation on multi-cloud
4- Provide DevOps Culture such as Agile Scrum software development framework throughout the Bootcamp
6- Docker platform and automated deployment with docker, docker-compose, and swarm
7- Virtualization and differentiate between docker and virtualization
8- K8s, EKS, and end2end deployment on the AWS (EKS)
9- Hands-on terraform implementation to implement and provision new infra using the terraform on the AWS
10- Ansible from 0 to hands-on impelematnion
11- Microservice architecture and platform deployment build-on microservices
12- Jenkins and GitLab CICD from design to hands-on implementation
13- and many more are mentioned below.
What do you get from the TS4U?
Success: Our success rate is over 85%.

Get a 20% scholarship as a new Computer science engineering graduate.

Get FREE Tuition if you are a resident of the state of Michigan through Michigan Works.

Caring: We treat your journey like you are part of the family; we motivate you to complete the program you are in.

Try it out: FREE Trial, FREE Career Counseling, and 24/7 Support.

Multiple Plans: Provide multiple plans, but the best plan is to be with us, get a job, and enjoy your life (100% job guarantee plan).

Develop technical and communication skills that prepare you to join a company and hit the ground from day one.

Internship opportunities and work with our development team to know the entire software development life-cycle and development framework.

Be an EXPERT with a salary of up to $200k yearly.

Receive monthly progress reports.

Weekly Show-N-Tell.

One-On-One Counseling.

One-On-One technical support.

Over 1000 technical interview questions throughout the Bootcamp.

Audio and video mock interview.

Interview assistance.

Salary negotiation makes more than $20k to have us on your side when we negotiate for you.

Provide a competitive and challenging environment through group competition on our portal.

Develop and build your sr. Level presentation skills.

Automated Mock interviews, Group Interviews, Resume creation, and Resume reviews.

Assist with the technical task to complete during the interview.

Short and long-term in-job assistance.

Guide you to climb the ladder for your next career.

Provide a mentor who works while teaching you and showing you the hands-on deployment from scratch.

Provide and unleash various career opportunities throughout the BootCamp.

Interest-free student loans.
Media Contact
Company Name: TS4U IT Engineering Bootcamp
Contact Person: Shiblu Ahmad
Email: Send Email
Phone: 5862767347
Address:28751 Ryan Road
City: Warren
State: Michigan
Country: United States
Website: https://ts4u.us/link/nojobnopay