Grant Cardone Launches The Unbreakable Business System to Help 1 Million Business Owners Thrive in the Face of Economic Uncertainty
Grant Cardone is a seasoned business leader with decades of experience and success, today he announced the launch of the Unbreakable Business System, a comprehensive framework designed to help business owners build businesses that are impervious to the ups and downs of the economy. The launch coincides with a free 5-day online event, The Unbreakable Challenge, where Grant will share the insights and strategies he has used to build his own unbreakable business.
"I believe the next financial crisis has already started," said Grant Cardone. "It doesn't matter what business you're in. HVAC. Plumbing. Consulting. Sales. Dentistry. Chiropractic. Accounting. Marketing. Retail. Technology. Hospitality. Real estate. Construction. Management. Or anything else. The next two to three years are going to be very difficult for entrepreneurs, startups, and business owners. And the stakes are the same for every industry. Those who don't prepare will be left behind and might never be able to catch up. But with the Unbreakable Business System, you could quit the rat race. You could secure a lifetime of cash flow. And you might come out of this crisis wealthier than ever before."
The Unbreakable Business System includes a replicable framework that any business owner can follow to make their business invincible against changing technology trends and eliminate "the problem of just one" in business. Grant has invested hundreds of thousands of dollars, done dozens of interviews, recorded countless hours of educational content, and crisscrossed the country to bring this all-new system to the masses.
"I truly believe I've built my business to be Unbreakable," said Grant Cardone. "And I've developed a replicable framework that any business owner can follow. The Unbreakable Business System gives you all the tools you need to make your business impervious to the ups and downs of the economy. It makes your business invincible against changing technology trends. And it eliminates 'the problem of just one' in business… Just one product line. One single customer lead source. Just one key employee… Because one of everything is how businesses break."
To learn more about the Unbreakable Business System and register for the free 5-day online event, The Unbreakable Challenge, visit https://unbreakable2023.com/registration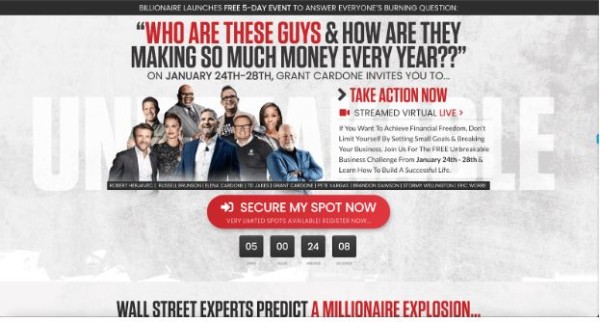 Contact: CARDONE ENTERPRISES
Miami Headquarters
18909 NE 29th Ave
Aventura, FL 33180
Toll-Free: 800-368-5771
Office: 310-777-0255
Fax: 310-777-0256
Media Contact
Company Name: CARDONE ENTERPRISES
Email: Send Email
Phone: Toll-Free: 800-368-5771 Office: 310-777-0255 Fax: 310-777-0256
Address:18909 NE 29th Ave
City: Aventura
State: FL 33180
Country: United States
Website: https://unbreakable2023.com/registration