Methes Energies International Showcasing A Better "Green" Choice Product Arsenal ($MEIL)

Methes Energies International Ltd (OTC Other: MEIL) is a micro-cap company with a large-cap perspective. In fact, if MEIL executes its strategies effectively, it may move up the valuation ranks sooner than later. Thus, at roughly $0.05 a share and with an aggressive business plan pushing its innovative "CLEAN TECH" products portfolio, current prices may be presenting an attractive opportunity.
Keep in mind, though, that markets are trading with extreme volatility. So much so that even best-of-breed companies are seeing their share prices appreciably cut. Still, while that affects short-term performance, those taking a longer-term perspective have historically weathered the market storms. Considering that Methes Energies is in a red-hot sector with no signs of slowing, share price weakness may help expose a valuation disconnect worthy of consideration.
In other words, MEIL manufactures and markets the right types of products at the right time and at a competitive price. And by bringing to market an assortment of bio-lubricants and fuels that combine domestically sourced farm-grown bio-derived feedstocks with proprietary technologies for superior performance, the upside for MEIL and its investors may be the path of least resistance.
MEIL's PRODUCT POSITIONING ADVANTAGE
It may be speculative, but it's also fair to suggest the MEIL has built the foundation to become a bigger company faster by supporting and executing a mission all molded around the four ideologies of being GREEN: renewable, biodegradable, recyclable and non-toxic.
Expressed in simplest terms and as the company emphasizes: "Earth Friendly." In addition to this, the company believes that end-users should not have to sacrifice performance or value when choosing an earth friendlier product; therefore, performance and pricing are properly positioned to match traditional product choices making MEIL's "green choice" the logical or better choice.

MOTHER NATURE's HAD ENOUGH!
It's time for a change: "Change your oil, change the world!" According to the USA Environmental Protection Agency, 40% of all U.S water pollution comes from used oil, representing the largest single source of pollution in our lakes, streams and rivers. It is estimated that 200 million gallons of used motor oil is improperly disposed of each year in the U.S. by being dumped on the ground, tossed in the trash (ending up in landfills) and poured down storm sewers and drains. Used petroleum motor oil from a single oil change (approximately 4-5 quarts) can ruin a million gallons of fresh water as this used oil is insoluble, persistent, slow to degrade and sticks to everything (from beach sand to bird feathers), containing toxic chemicals and heavy metals that pose a health threat to humans, plants and animals.
And, while clean cardboard and plastic bottles can be recycled, cardboard contaminated with oil and bottles filled with remnants of oil cannot be. It is estimated that over 37 million gallons of petroleum oil is dumped into USA landfills each year from the more than 3 billion "used" motor oil bottles trashed with oil residue still left inside.
A BILLION DOLLAR MARKET IN-PLAY
Driven by Governmental policies, including EPA regulatory requirements and regulatory developments as well as socially responsible customers and consumers who both desire to promote their own environmental agendas, it is estimated by FORTUNE Business Insights that the bio-lubricant marketplace is to reach $4.26 billion by 2029 as these policies and desires will stimulate market growth with a CAGR of almost 4.7% (2022 – 2029). While this segment is less than 1.5% of the total global finished lubricant market that includes engine oils, motor oils, marine oils, chainsaw oils, industrial gear oils, metal working oils, transformer oils and hydraulic fluids, its growth is significantly faster than the others.
SATISFYING UNMET NEEDS WHILE OVERCOMING BARRIERS TO ENTRY
We can rest assure that the above agendas will drive the bio-lubricants category for decades to come; but, how is MEIL satisfying these unmet needs and how are they overcoming the two biggest barriers to those participating in this category…PERFORMANCE + PRICE? Historically, "green products" typical cost more to make, so they are higher priced, the performance requirements did not meet those of traditional toxic products; and, in some cases, were not as earth friendly as the manufacturer claimed. MEIL is positioned to meet and satisfy these needs as well as EXCEED EXPECTATIONS while at the same time overcoming these obstructions/objections.
First of all, b2 bio-lubricants were specifically formulated to address the growing concerns regarding improper disposal of used oils and their effects on the environment with an earth friendlier offering that meets and exceeds the requirements of original equipment manufacturers (OEM) and end-user performance demands while satisfying the unmet needs of ongoing governmental regulations and requirements, including those that mandate the procurement and usage of domestically sourced bio-derived products. Tested and certified as biodegradable, non-bioaccumlative and minimally toxic to aquatic life, these b2 bio-lubricants are smarter formulations that include the usage of sustainable packaging (re-usable, recyclable and re-purposeful) that reduce costs promoting competitive pricing.
Reusable packaging (including "proper disposal") is an incremental cost that does not necessarily have to be passed on to the consumer or customer (end-users). The company is responding to this opportunity with new concepts in motor oil sales and delivery…environmentally sustainable oil delivery or E-SOD.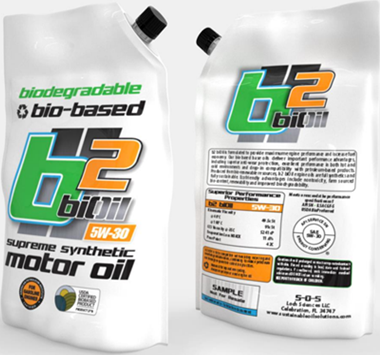 These high performing bio-lubricants (supreme synthetics) deliver plenty of advantages, including maximum lubrication protection, extended oil change intervals and improved engine performance along with increased fuel economy.
And, with a better way to market that includes direct to consumer and direct to customer go-to-market strategies, will allow the Company to provide high performing bio-lubricating products in a timely "just-in-time" fashion minimizing inventory and costs while maximizing efficiencies. In the end, our customers and consumers will purchases a b2 branded finished product at a comparable price to comparable performing petroleum based lubricant counterpart.
Given a choice, more consumers are customers are choosing earth friendlier alternatives faster than ever. And, in the direct-to-consumer market, which represents about 15% of oil sales and direct-to-customer that represents approximately 85%, providing a bio-lubricant option can be a legitimate reason for them to explore and engage new product offerings. MEIL is after that business, developing innovative biodegradable/bio-based formulations packaged in sustainable containers to meet the demand and requirements for both civilian consumption and military contracts, with direct store or military base delivery totes and drums as well as utilizing preprinted quart/liter pouches with a packaged return address envelope that facilitates and expedites the free-of-charge return of that container for re-usage or for "proper" disposal.
PROVEN IN THE MILITARY
The Defense Logistics Agency (DLA), provider of logistical, acquisition and technical support for the Army, Navy, Air Force, Marine Corps, Coast Guard, Space Force, United States Postal Service, NASA and other federal agencies and allies, in partnership with the Air Force Research Laboratory, conducted testing and validation for over four (4) years of bio-based synthetic motor oils in government vehicles at four Air Force bases, the Department of Homeland Security installations, FLETC and others. B2 BiOil's 5W-20 and 5W-30 passed with flying colors, validated and confirmed by 3rd party testing conducted by Concurrent Technologies Corporation (CTC) and Michigan's APEX Laboratories, culminating in the assignment of NSN #'s and the ability to bid on these purchase requests and other RFP's via Sam.gov.
The Department of Defense (DoD) uses over 1.1 million gallons of 5W-20 and 5W-30 motor oils annually in about 190,000 vehicles. The entire federal government, including the military services, civilian agencies and the US Postal Service maintains a total of 633,000+ vehicles. Testing and evaluation showed that b2 is comparable to and better than conventional oil which could lead to a complete conversion to bio-based synthetic motor oils in the federal government's fleet of non-tactical vehicles. Pressure to convert comes in the form of DoD sustainable procurement directions (including the USDA Bio Preferred Mandated Federal Procurement Program), Federal Acquisition Regulations and laws such as the Farm Security and Rural Investment Act of 2002, which stresses the need for the government to procure and use bio-based products.
These successful outcomes are great news for farmers as it will expand the market for domestically produced agricultural products. Other benefits include a reduction in life-cycle carbon footprint and dependency on foreign petroleum.
CONCLUSION – A VALUE PROPOSITION IN-PLAY
All told, there's plenty to appreciate about where MEIL is today and where they intend to be a year from now. They have an excellent product, a well prepared plan; and, the ambition to continue promoting and proving that its assortment of b2 bio-lubricants can fill a massive void and satisfy multiple needs in diversified markets. Better "eye-catching" sustainable packaging, innovative biodegradable and renewable base-stock formulations; and, a results-driven management team are just some of the ingredients for immediate and long-term success…MEIL has them all!
But the most valuable aspect of the assortment of b2 bio-lubricants is that its creation is to replace decades-old petroleum based lubricants and mitigate global concerns regarding used oil improper disposals environmental effects…and, the company believes that by satisfying end-user demands and meeting the needs of on-going government requirements that also mandate the procurement of domestically sourced bio-derived products, b2 could metaphorically become the bio-formulated ROCKET FUEL to power its own strategic ambitions.
So, accounting for the sum of MEIL's parts, $0.05 a share may not give proper justice to a company starting to hit on all cylinders; however, considering its completed acquisition will be immediately accretive to growth from products meeting EPA guidelines, that price may be a bargain. Then again, market weaknesses have caused many stocks to drop sharply. That trend, however, shouldn't be a defining deterrent, noting that the bear market tends to expose significant opportunities.
Getting a running start into a billion-dollar market with a potential best-in-class bio-lubricant, Methes Energies International, Inc., may be one of those disconnects to consider. But primed for growth, it's a gap that could close quickly.
Disclaimers: Shore Thing Media, LLC. (STM, Llc.) is responsible for the production and distribution of this content. STM, Llc. is not operated by a licensed broker, a dealer, or a registered investment adviser. It should be expressly understood that under no circumstances does any information published herein represent a recommendation to buy or sell a security. Our reports/releases are a commercial advertisement and are for general information purposes ONLY. We are engaged in the business of marketing and advertising companies for monetary compensation. Never invest in any stock featured on our site or emails unless you can afford to lose your entire investment. The information made available by STM, Llc. is not intended to be, nor does it constitute, investment advice or recommendations. The contributors may buy and sell securities before and after any particular article, report and publication. In no event shall STM, Llc. be liable to any member, guest or third party for any damages of any kind arising out of the use of any content or other material published or made available by STM, Llc., including, without limitation, any investment losses, lost profits, lost opportunity, special, incidental, indirect, consequential or punitive damages. Past performance is a poor indicator of future performance. The information in this video, article, and in its related newsletters, is not intended to be, nor does it constitute, investment advice or recommendations. STM, Llc. strongly urges you conduct a complete and independent investigation of the respective companies and consideration of all pertinent risks. Readers are advised to review SEC periodic reports: Forms 10-Q, 10K, Form 8-K, insider reports, Forms 3, 4, 5 Schedule 13D. For some content, STM, Llc., its authors, contributors, or its agents, may be compensated for preparing research, video graphics, and editorial content. STM, LLC has been compensated up to two-thousand-dollars cash via wire transfer by a third party to produce and syndicate content for Methes Energies International for a period of one week ending on 03/03/23. As part of that content, readers, subscribers, and website viewers, are expected to read the full disclaimers and financial disclosures statement that can be found on our website. The Private Securities Litigation Reform Act of 1995 provides investors a safe harbor in regard to forward-looking statements. Any statements that express or involve discussions with respect to predictions, expectations, beliefs, plans, projections, objectives, goals, assumptions or future events or performance are not statements of historical fact may be forward looking statements. Forward looking statements are based on expectations, estimates, and projections at the time the statements are made that involve a number of risks and uncertainties which could cause actual results or events to differ materially from those presently anticipated. Forward looking statements in this action may be identified through use of words such as projects, foresee, expects, will, anticipates, estimates, believes, understands, or that by statements indicating certain actions & quote; may, could, or might occur. Understand there is no guarantee past performance will be indicative of future results. Investing in micro-cap and growth securities is highly speculative and carries an extremely high degree of risk. It is possible that an investors investment may be lost or impaired due to the speculative nature of the companies profiled.
Media Contact
Company Name: STM, LLC.
Contact Person: Michael Thomas
Email: [email protected]
Phone: 917-773-0072
Country: United States
Website: https://primetimeprofiles.com/