New memoir "Limp Forward" by Libo Cao Meyers to be released, an inspiring, empowering story of resilience, family history, and the courage to relentlessly pursue greatness in the face of obstacles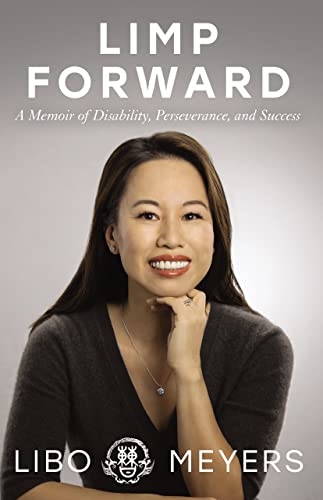 "Limp Forward: A Memoir of Disability, Perseverance, and Success" by Libo Cao Meyers will be released worldwide on June 27th, 2023, with pre-orders available starting May 23rd, 2023. This unique, 384-page memoir tells the author's personal journey from a childhood polio diagnosis in North China to a successful career as a Silicon Valley executive, from the physical limitations of her disease and ongoing discrimination to dogged persistence and inspirational support from family and friends.
Libo's story is, at its core, one of not taking no for an answer. As an Asian American woman in the tech sector and a person with a disability, she has faced harsh judgments, false assumptions about her capabilities, and invisibility, yet remained committed to her dreams of education, athletics, career, and life.
The author's accomplishments are numerous, including a move to the U.S. on her own at 24 years old, earning both a Ph.D. and M.S. degree in two different fields within four years, completing an 11.5-hour, 100-mile bike ride with the power of just one leg, and earning a position as an engineering executive at Apple, among many others. While her accolades are each impressive in their own right, it's the determination that Meyers brings to each challenge that will truly inspire readers of all backgrounds.
This is also a story about dedication to family – not just her own husband, children, and immediate relatives, but also the Cao family legacy that stretches back 3000 years. Through the legacy she is building for her loved ones, this connection to her ancestors is a driving force in Libo's life.
In writing this book, she aims to inspire others, especially those who are underprivileged and underrepresented, to reach their full potential. She shares her experiences candidly, from struggling with poverty to the pressures of success, forging ahead in the technology industry to feeling a deep connection to the past, the dualities of culture, career, and parenthood, and the complexities of human nature that connect us all. She provides perspective and encouragement for those who feel limping through life and gives readers the courage to keep moving despite their limitations.
Sometimes somber, sometimes funny, and unshakably inspiring at every turn, Libo Cao Meyers has written a memoir that does far more than share her personal history. She reminds readers of their own strength, inspires them to make their own way in the world, and shows that great things are possible through bravery and commitment to growth.
Limp Forward: A Memoir of Disability, Perseverance, and Success (ISBN: 9781544528519 – Ebook / 9781544528526 – Paperback / 9781544528533 – Hardcover / 9781544542973 – Audiobook) can be purchased through all major online retailers worldwide, including Amazon, Apple Books, Barnesandnoble.com. Ebook promotional pricing at $2.99 is available May 23rd – July 3rd, 2023. The ebook retails for $9.99, the paperback retails for $18.99, the hardcover retails for $34.99, and the audiobook retails for $24.99.
For review copies request and media inquiries please email [email protected]. For bulk orders and business inquiries please email [email protected].
Learn more at https://limpforward.org or https://libomeyers.com
"Limp Forward" is a compelling memoir chronicling the life of Libo Meyers, a remarkable individual who has triumphed over a disability, poverty, and discrimination to achieve outstanding academic, athletic, and professional success. Through the author's personal journey, readers are treated to a powerful story of resilience, determination, and perseverance. This memoir is perfect for those seeking inspiration from stories of individuals who have overcome tremendous adversity to achieve greatness in their lives."
– Scribe Media
Excerpt from the back cover:
I believe that I can lose, but I can't give in. When I am told "no," I make my own "yes."
"No, you won't be admitted to college and study the major you want. Those are for 'complete' talents, and you are disabled with polio."
So I went to a college and became the first to complete a four-year college in three years, with a graduate school admission.
"No, you can't possibly complete a master's degree in a field, while pursuing another doctorate degree in a different area at the same time! Nobody has ever done that, and you will fail in both."
So I limped forward to the opposite side of the globe, earned both a Ph.D. and M.S. degree in two different fields within 4 years, and stood strong on my own in a new country.
"No, you can't participate in sports or be an athlete because of your polio leg!"
So I completed a 100-mile bike ride, racing against 50 mph wind for 11.5 hours with the strength of one leg.
"No, you can't find your dream man to marry. Lower your expectations and settle for what you can get."
So I developed a scientific approach with machine learning models for dating, found the man of my dreams after the 82nd attempt, and married him. . . without lowering any of my expectations.
"No, you can't excel in Silicon Valley. It's a man's world."
So I became a high-tech executive at Apple, and I kept learning, growing, and leaping forward to my next set of goals…
About the author:
Libo Cao Meyers is an engineering executive at Apple, a board member, and a veteran of Silicon Valley's innovative culture. She grew up in Northern China and was diagnosed with polio as an infant. Immigrating alone to the United States in 2000, she completed her M.S. and Ph.D. simultaneously in two different engineering fields from Ohio University by 2004. From there, she became an athlete by completing a 100-mile bike ride with the strength of one leg. Libo loves to solve challenges and bring impact to this world. She cherishes her personal identity that stems from the deeply-rooted Cao family legacy dating back 3000 years. Libo lives in California with her husband and their two sons. For more, visit libomeyers.com
Media Contact
Company Name: MindStir Media LLC
Contact Person: Jen McNabney
Email: Send Email
Phone: 800-767-0531
Address:1 New Hampshire Ave Suite 125
City: Portsmouth
State: NH
Country: United States
Website: https://mindstirmedia.com/