Psoriatic Arthritis Market to Register Immense Growth During the Forecast Period (2022-2032) – DelveInsight | Key Companies – AbbVie, UCB Biopharma, BMS, Affibody AB, AltruBio, Sun Pharma, Janssen
As per DelveInsight, the Psoriatic Arthritis Market is anticipated to evolve immensely in the coming years owing to the rise in the number of cases of Psoriatic Arthritis and the launch of novel therapies in the market.
DelveInsight's "Psoriatic Arthritis Market Insights, Epidemiology, and Market Forecast 2032" report delivers an in-depth understanding of the disease, historical and forecasted epidemiology, as well as the Psoriatic Arthritis market size, share, trends, and growth opportunities in the seven major markets (7MM) (i.e., the United States, EU4 (Germany, Spain, Italy, France), the United Kingdom and Japan).
The Psoriatic Arthritis market report covers emerging drugs, current treatment practices, market share of individual therapies, and current & forecasted market size from 2019 to 2032. It also evaluates the current treatment practice/algorithm, key drivers & barriers impacting the market growth, and unmet medical needs to curate the best of the opportunities and assess the underlying potential of the market.
Psoriatic Arthritis: An Overview
Psoriatic arthritis (PsA) is a heterogeneous chronic inflammatory rheumatic disease characterized by pain, stiffness, swollen joints, joint erosion, and bone formation. Clinical manifestations vary significantly between patients. It can present with oligoarticular joint involvement, typically asymmetric, or as a polyarticular disease affecting five or more joints, usually with an asymmetric distribution similar to rheumatoid arthritis
PsA etiology remains still unknown, but pathogenetic models suggest a complex interaction between multiple genetic (i.e., HLA-B*27 and HLA-C*0602 alleles), environmental (i.e., infections, biomechanical stress or trauma), and immunologic factors (i.e., T helper lymphocyte subsets). Psoriatic Arthritis Diagnosis is based on radiological findings characterized by juxta-articular erosions, osteolysis phenomena, and, mainly in advanced phases, new bone formation. Imaging techniques, such as magnetic resonance imaging and ultrasound combined with power doppler, and CT scans, can detect early and active articular and periarticular inflammatory lesions.
Psoriatic Arthritis Market Key Facts
In the 7MM, Psoriatic Arthritis (PsA) market size was approximately USD 9 billion in 2021, which is anticipated to grow by 2032.

The total prevalent patient population of psoriatic arthritis (PsA) in the 7MM countries was close to 1.5 million in 2021.

Several Psoriatic Arthritis companies are working robustly on many new therapies, such as bimekizumab (UCB Biopharma), tildrakizumab (Sun Pharmaceutical), deucravacitinib (BMS), and izokibep (Affibody AB).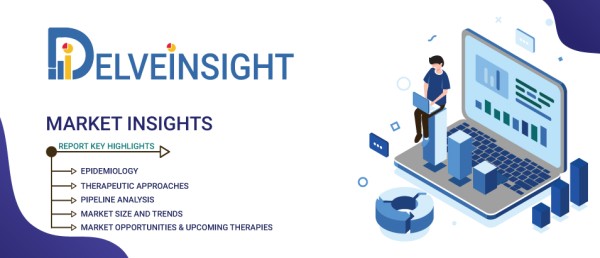 The market outlook section of the report helps to build a detailed comprehension of the historical, current and forecasted Psoriatic Arthritis market size by analyzing the impact of current and emerging pipeline therapies. It also thoroughly assesses the market drivers & barriers, unmet needs, and emerging technologies set to impact the market dynamics.
The report gives complete detail of the Psoriatic Arthritis market trend for each marketed drug and mid & late-stage pipeline therapies by evaluating their impact based on the annual cost of therapy, their Mechanism of Action (MOA), Route of Administration (ROA), molecule types, competition with other therapies, brand value, and their impact on the market.
Psoriatic Arthritis Epidemiology Assessment
The epidemiology section provides insights into the historical, current, and forecasted epidemiology trends in the seven major countries (7MM) from 2019 to 2032. It helps to recognize the causes of current and forecasted epidemiology trends by exploring numerous studies and research. The epidemiology section also provides a detailed analysis of diagnosed and prevalent patient pools, future trends, and views of key opinion leaders.
The Report Covers the Psoriatic Arthritis Epidemiology, Segmented as –
Total Prevalent Cases of Psoriatic Arthritis [2019–2032]

Total Diagnosed Cases of Psoriatic Arthritis [2019–2032]

Gender-specific Cases of Psoriatic Arthritis [2019–2032]

Age-specific Cases of Psoriatic Arthritis [2019–2032]

Severity-specific Cases of Psoriatic Arthritis [2019–2032]
Psoriatic Arthritis Drugs Uptake and Pipeline Development Activities
The drug uptake section focuses on the uptake rate of potential drugs recently launched in the Psoriatic Arthritis market or expected to be launched during the study period. The analysis covers the Psoriatic Arthritis market uptake by drugs, patient uptake by therapies, and sales of each drug. Moreover, the therapeutics assessment section helps understand the drugs with the most rapid uptake and the reasons behind the maximal use of the drugs. Additionally, it compares the drugs based on market share.
The report also covers the Psoriatic Arthritis pipeline development activities. It provides valuable insights about different therapeutic candidates in various stages and the key companies involved in developing targeted therapeutics. It also analyzes recent developments such as collaborations, acquisitions, mergers, licensing patent details, and other information for emerging therapies.
Learn How the Psoriatic Arthritis Market Will Evolve and Grow by 2032 @
https://www.delveinsight.com/sample-request/psoriatic-arthritis-market
Psoriatic Arthritis Therapeutics Analysis
Several major pharma and biotech companies are developing therapies for Psoriatic Arthritis. Currently, Abbvie is leading the therapeutics market with its Psoriatic Arthritis drug candidates in the most advanced stage of clinical development.
The emerging market consists of interleukin-23, tyrosine kinase inhibitors, and JAK inhibitors. Launching these drugs would offer more options to patients who currently poorly respond to oral small molecules and TNF inhibitors.
Leading Players in the Psoriatic Arthritis Therapeutics Market Include
3SBio, AbbVie, AbGenomics, Aclaris Therapeutics, Affibody AB, Akeso Biopharma, Alpine Immune Sciences, AltruBio, Amgen, Avotres, Bio-Thera Solutions, Biocad, Biogen, BMS, Boehringer Ingelheim, Bristol-Myers Squibb, Celltrion, CinnaGen, Cipla, DNX Biopharmaceuticals, Dong-A ST, Eli Lilly and Company, Evelo, Formycon, Fresenius Kabi, Fujifilm Kyowa Kirin Biologics, Gilead Sciences, Hetero Biopharma, Innovimmune Biotherapeutics, Janssen Biotech, Kangpu Biopharmaceuticals, Levolta Pharmaceuticals, Luye Pharma Group, Mycenax Biotech, Mylan, NeuClone, Pfizer, Polpharma Biologics, Qyuns Therapeutics, Sandoz, Shanghai Henlius Biotech, Sun Pharmaceutical Industries Limited, Synact Pharma, Torrent Pharmaceuticals, UCB Biopharma, XBiotech, Xbrane Biopharma, Zydus cadilla, and many others.
Psoriatic Arthritis Emerging and Marketed Drugs Covered in the Report Include:
ABT-494: AbbVie

Bimekizumab: UCB Biopharma

Deucravacitinib: BMS

Izokibep: Affibody AB

NDI-034858: Nimbus Therapeutics

Neihulizumab: AltruBio

Risankizumab: Abbvie

Tildrakizumab: Sun Pharmaceutical Industries Limited

TREMFYA (guselkumab): Janssen Biotech

OTEZLA (apremilast): Amgen

SIMPONI (golimumab): Janssen Biotech

CIMZIA (certolizumab): UCB Pharma

ORENCIA (abatacept): Bristol Myers Squibb

TALTZ (ixekizumab): Eli Lilly and Company

REMICADE (infliximab): Janssen Biotech

SKYRIZI (risankizumab): AbbVie

HUMIRA (adalimumab): AbbVie

RINVOQ (upadacitinib): AbbVie

ENBREL (etanercept): Amgen

XELJANZ (tofacitinib): Pfizer

STELARA (ustekimumab): Janssen Biotech
The Report Covers the In-depth Assessment of the Emerging Drugs & Key Companies. Download the Sample Report to Learn More @
https://www.delveinsight.com/sample-request/psoriatic-arthritis-market
Table of Content (TOC)
1. Key Insights
2. Executive Summary
3. Psoriatic Arthritis Competitive Intelligence Analysis
4. Psoriatic Arthritis Market Overview at a Glance
5. Psoriatic Arthritis Disease Background and Overview
6. Psoriatic Arthritis Patient Journey
7. Psoriatic Arthritis Epidemiology and Patient Population (In the US, EU5, and Japan)
8. Psoriatic Arthritis Treatment Algorithm, Current Treatment, and Medical Practices
9. Psoriatic Arthritis Unmet Needs
10. Key Endpoints of Psoriatic Arthritis Treatment
11. Psoriatic Arthritis Marketed Products
12. Psoriatic Arthritis Emerging Drugs and Latest Therapeutic Advances
13. Psoriatic Arthritis Seven Major Market Analysis
14. Attribute Analysis
15. Psoriatic Arthritis Market Outlook (In US, EU5, and Japan)
16. Psoriatic Arthritis Access and Reimbursement Overview
17. KOL Views on the Psoriatic Arthritis Market
18. Psoriatic Arthritis Market Drivers
19. Psoriatic Arthritis Market Barriers
20. Appendix
21. DelveInsight Capabilities
22. Disclaimer
*The Table of Contents (TOC) is not exhaustive; the final content may vary. Refer to the sample report for the complete table of contents.
Download the Sample PDF to Learn More About the Key Offerings of the Report @
https://www.delveinsight.com/sample-request/psoriatic-arthritis-market
About DelveInsight
DelveInsight is a leading Business Consultant and Market Research Firm focused exclusively on life sciences. It supports pharma companies by providing comprehensive end-to-end solutions to improve their performance.
Other Trending Healthcare Reports by DelveInsight
mRNA Vaccine and Therapeutics Market
The global mRNA Vaccines and Therapeutics market was valued at USD 71,263 million in 2022, which is expected to grow immensely in the coming years. The demand for mRNA vaccines and therapeutics is expected to grow owing to the rising need for protection against sudden pandemic outbreaks, the increasing patient pool associated with infectious diseases across the globe, and the rise in the number of ongoing clinical trials for various indications among others.
Media Contact
Company Name: DelveInsight Business Research LLP
Contact Person: Shruti Thakur
Email: Send Email
Phone: 09650213330
Address:304 S. Jones Blvd #2432
City: Las Vegas
State: NV
Country: United States
Website: https://www.delveinsight.com/