Hasan Ismaik Unveils "The Power of Positive Thinking: Interfaith 21st Century Edition"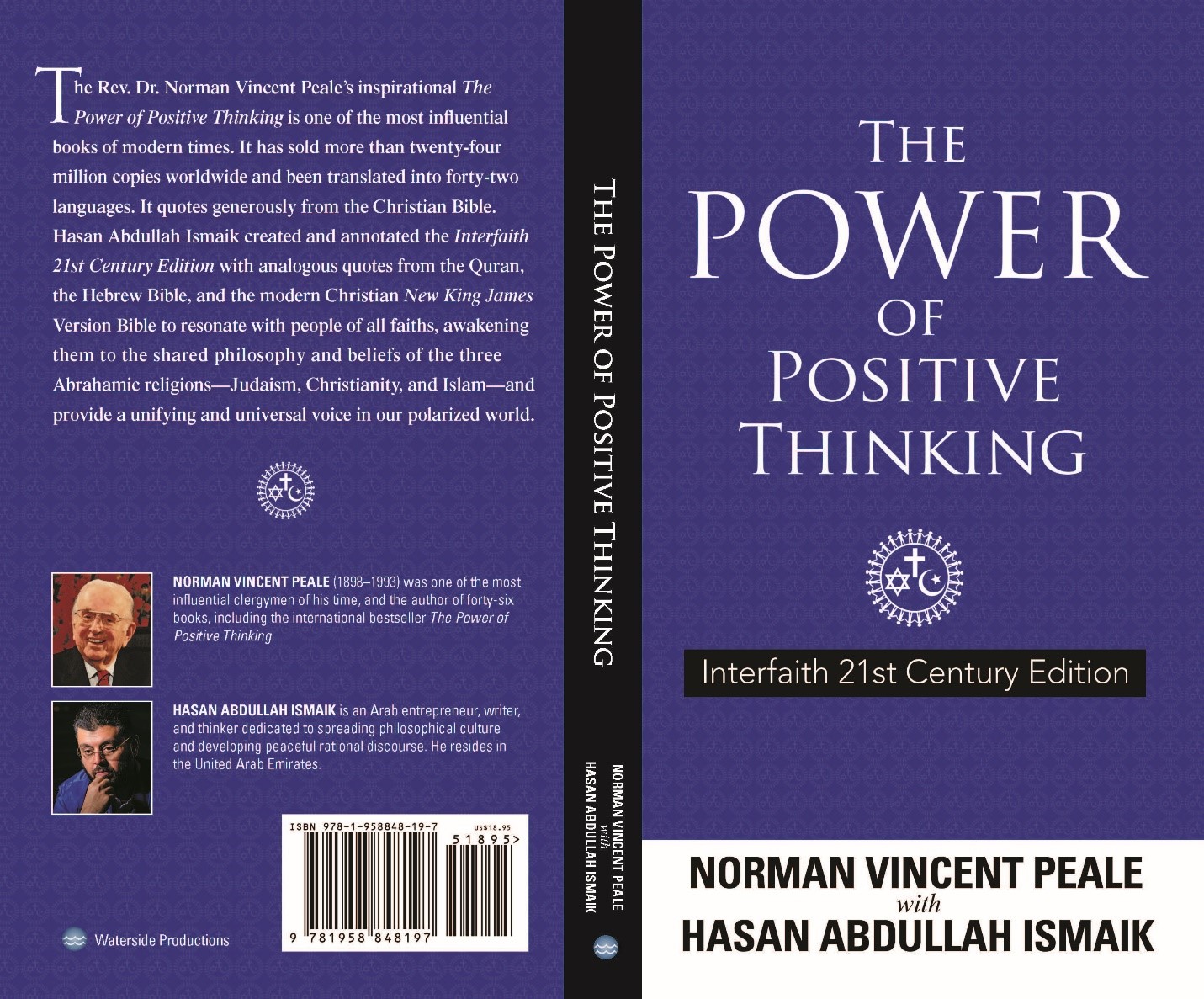 UAE – May 24, 2023 – Award-winning author, businessman and philanthropist, Hasan Ismaik, has recently made an exciting announcement regarding his highly anticipated book, "The Power of Positive Thinking: Interfaith 21st Century Edition." This latest edition is now available across the globe and marks a significant milestone in promoting unity, understanding, and positivity across different faiths in the modern era.
This incredibly impactful book has been honored with a silver medal at the Nautilus Book Awards.
"The Power of Positive Thinking", originally penned by the esteemed Rev. Dr. Norman Vincent Peale in 1952, stands as an enduring source of inspiration and wisdom. This remarkable edition has emerged as a true beacon of influence, captivating readers across the globe. With an astounding global sales record exceeding twenty-four million copies and translations into an impressive forty-two languages, its impact remains unparalleled in modern literary history. The Power of Positive Thinking" has captured the hearts and minds of readers for decades, selling over twenty-four million copies worldwide and being translated into forty-two languages. Its power lies in its ability to inspire individuals to embrace optimism, faith, and resilience in the face of life's challenges.
Hasan Abdullah Ismaik known for his inspirational writings and his commitment to fostering interfaith dialogue, has reimagined and updated this acclaimed book for the 21st century. With this revised edition, Ismaik aims to reach a broader audience and youth in particular and provide valuable insights that resonate with individuals from diverse religious backgrounds. He recognized the universal appeal of this timeless work and saw an opportunity to further bridge the gap between different faith traditions. Hasan Abdullah Ismaik has enriched the Interfaith 21st Century Edition by incorporating comparable quotations from the Quran, the Hebrew Bible, and the contemporary Christian New King James Version Bible. His intention is to establish a connection with individuals of diverse faiths, enabling them to recognize the common philosophies and principles shared by the three Abrahamic religions — Judaism, Christianity, and Islam. Through this remarkable work, Ismaik seeks to awaken a sense of unity and universality, offering a collective voice amidst the divisions and polarization prevailing in our world today.
"The most important thing that the book teaches us is the importance of trusting God and not moving away from Him in both good and bad times. It also teaches us that positive thinking is a great force capable of changing our thoughts for the better and then directing our behavior toward what is appropriate and useful. We can derive this strength from the Holy Books, from what God taught us and what the prophets showed us, and here it is important to point out the importance of the spiritual dimension that we can derive from the holy verses, which is able to raise the level of confidence and optimism in our souls, and then dispose of life affairs based on them," stated Ismaik.
"The Power of Positive Thinking: Interfaith 21st Century Edition" encapsulates Ismaik's extensive research, personal experiences, and spiritual wisdom to promote harmony, compassion, and open-mindedness in an ever-changing world. By emphasizing the power of positivity, the book guides readers on a transformative journey, offering practical techniques and inspiring stories that transcend religious boundaries.
In this revolutionary edition, Ismaik sheds light on the timeless principles of faith, hope, and love that serve as a common thread among diverse religious traditions encompassing Judaism, Islam, and Christianity. He explores the shared values and teachings that can foster understanding and cooperation, enabling individuals to embrace diversity and build bridges across faith communities.
Ismaik book serves as a beacon of hope, inviting readers to reflect on their own beliefs, challenge preconceived notions, and embrace a more inclusive worldview. With a blend of scholarly research and personal anecdotes, Ismaik offers readers actionable strategies to cultivate positivity, overcome challenges, and foster interfaith dialogue in their everyday lives.
"The Power of Positive Thinking: Interfaith 21st Century Edition" is set to become an invaluable resource for individuals seeking spiritual growth, interfaith understanding, and a brighter future for humanity. Hasan Ismaik's unwavering commitment to promoting unity and harmony shines through every page, encouraging readers to discover the transformative power of positivity in their own lives and within their communities.
Hasan Ismaik's inspiring message of unity, compassion, and hope is poised to make a lasting impact, transcending religious boundaries and fostering a more harmonious and interconnected world.
About Hasan Abdullah Ismaik
Hasan Abdullah Ismaik is an Arab entrepreneur, writer, and thinker dedicated to spreading philosophical culture and developing Arab rational discourse. A Jordanian of Palestinian heritage who resides in Abu Dhabi, United Arab Emirates, Mr. Ismaik chairs the investment firms Marya Group and First Capital Group Holding. His humanitarian interests include promoting harmony between the East and West; supporting religious discourse and tolerance; elevating the understanding of Islamic philosophy and heritage; working for international cooperation, conflict resolution, and stability in the Middle East; and, especially, fostering the social and economic welfare of the young. In doing so, Mr. Ismaik seeks to achieve a spiritual rapprochement that strengthens the bonds of love and understanding between believers in the East and West.
The book is available on Amazon.com
Media Contact
Company Name: Press Agent: KBC Media, LLC
Contact Person: Karen Ammond
Email: Send Email
Phone: 917-379-1430
City: Haddonfield
State: New Jersey
Country: United States
Website: https://shorturl.at/lvJK3