Michael Davenport Launches Kickstarter Campaign for an Exciting New Game
Now Seeking Community Support via Kickstarter, Dancin' Wild is the world's latest guessing game with more than 1,200 Possibilities!
Michael Davenport is a US based game creator and a family man, and he has proudly announced the launch of an exciting new game called "Dancin' Wild"! Emerging as the ultimate guessing game, Dancin' Wild is one of the most entertaining, and highly creative experiences for the whole family! To introduce this board game project to the world, Davenport and his family have recently launched a crowdfunding campaign on Kickstarter, and are welcoming generous community support and backing.
"Have you EVER seen a Breakdancing Pig? What about a Moonwalking Elephant? Well, Dancin' Wild is a hilarious guessing game where those priceless dancing animal visuals actually COME TO LIFE! And with up to 1,200 comical possibilities, this experience is GUARANTEED to have all families smiling and laughing for hours," explained Davenport, while introducing this project to the Kickstarter community. He added, "My only downfall with this amazing opportunity is the lack of funding needed for mass production, which is why I need your support and backing in this Kickstarter campaign."
The Kickstarter Campaign is located online at:
www.kickstarter.com/projects/dancinwild/dancin-wild, in which backers from around the world can become a part of this project by making generous pledges and donations. Moreover, the goal of this Kickstarter campaign is to raise a sum of $65,000, where the game creator is offering a wide range of rewards for the backers with worldwide shipping. Furthermore, more details are available on the Kickstarter campaign page of the project.
About This Project:
Dancin' Wild is an exciting new live guessing game that uses a game board and offers unforgettable memories and entertainment. The game combines animals and dances in a unique way and is a complete fun package for all friends and family, including nearly ALL ages. This project is currently being crowdfunded on Kickstarter and its creator is welcoming generous community support and backing.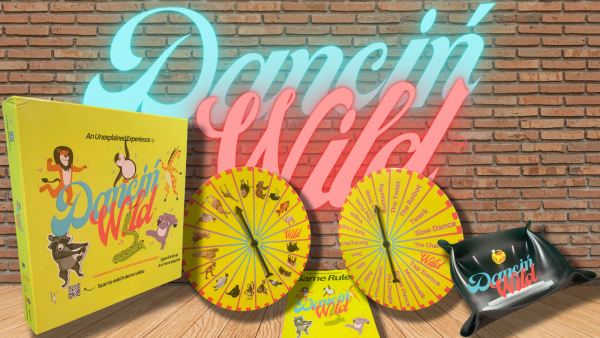 Media Contact
Company Name: Unexplained Experiences LLC
Contact Person: Michael Davenport
Email: Send Email
City: Winston Salem
State: North Carolina
Country: United States
Website: www.unexplainedexperiences.com